Nelson Youth Theatre's rendition of Joseph fast-paced and engaging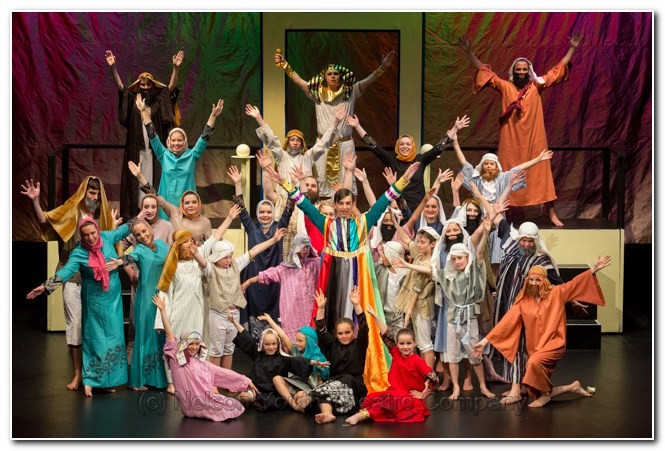 Published: November 27th 2017
Described as one of the most enduring shows ever, Joseph and the Amazing Technicolor Dreamcoat is an ambitious undertaking for a youth theatre company.
But the Nelson Youth Theatre Company, under the experienced direction of Richard Carruthers, assisted by Elizabeth Murphy, were well up to the challenge, producing a fast-moving performance which had the audience fully engaged throughout.
Joseph was played by Jack Munro who alternates with Seth Blackburn, Pharaoh by Ryan Chilton alternating with Jesse Glanville, Jacob/Potiphar by Tim Nichols and Mrs Potiphar by Livia Fanselow alternating with Alex Jenson. The four principals in tonight's performance were terrific.
The rest of the cast consisted of some 30 children and young people whose ages seemed as young as 7 or 8 years. I lost count of the number of costume changes some of the cast undertook, including Olivia Newton and Jessica Hamilton, assigned joint responsibility for the camel. The wardrobe was supervised by Leah Bethwaite.
Although there was enough dialogue to maintain the story line the heart of this work is the music, composed by Andrew Lloyd Weber, which encompasses just about every popular genre of the past century – Dixieland, Swing, Presley and more. All this under the direction of Jim Wiseman. Great music for dancing.
And dancing there is in plenty. Choreographed by Alex Jenson the movement on the stage mesmerised the audience. How can so many young people remember so many precise body movements? Amazing.
And behind all this is a team of around 50 committed volunteer supporters taking care of every aspect of a complex production.
The audience applause at the end of the show left no doubt that everybody's efforts were well worthwhile. The production runs until December 2.