Don't miss out, book your tickets here now!
Into the Woods JR. is an engaging and funny musical comedy that twists familiar fairy tales into a brand new story. When a Baker and his Wife learn they've been cursed with childlessness by the Witch next door, they embark on a quest for the special objects required to break the spell; swindling, deceiving and stealing from Cinderella, Little Red Riding Hood, Rapunzel and Jack (the one who climbed the beanstalk)!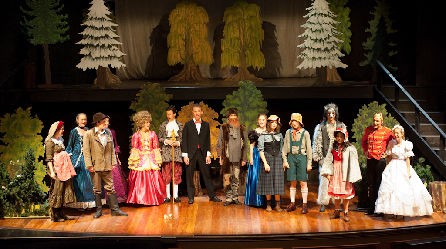 Nelson Youth Theatre Company presents fantastic fairy tale entertainment for the whole family!
"Be careful what you wish for" is the theme of this Broadway family musical. Stephen Sondheim's Into the Woods follows a baker and his wife who wish to have a child, Cinderella who wishes to go to the King's festival, and Jack (and the beanstalk) who wishes his cow would give some milk.
When the baker and his wife are visited by a wicked witch from next door, she reveals to them that she placed a curse on their family, and the two set off on a journey "into the woods" to reverse the curse.
There we meet Little Red Riding Hood, on her way to visit her grandmother, a Wolf who loves tasty little girls, the witch's daughter Rapunzel, and Cinderella's and Rapunzel's princes!
By the end, everyone will seem to have gotten their wish and will be preparing to live happily ever after. But will they…?
Join the cast of this crazy fairytale musical for an hour of non-stop entertainment from Nelson Youth Theatre whose recent productions include Aladdin JR, CATS, Shrek JR, Moana JR and The Lion King JR.
Tickets on sale now, book at the Theatre Royal. The show will go on under Orange and Green Traffic lights, so come and support our first show of 2022!